STOCK LISTS
INVENTORY

Customers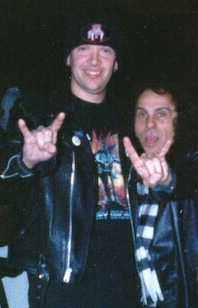 Jim Rhoads and Ronnie James Dio.
Jackson Browne - 1962 Martin F55 archtop electric guitar
Geddy Lee of Rush - Vintage 60's Vox bass parts and plexiglass Rickenbacker finger rest for his 4005 bass.
Chad Taylor of Live - New Vox AC/30, 2 - 60's Thomas Organ Vox tube amps.
Lenny Kravitz - 1963 Vox AC/30 non top boost.
Bryan Adams - Vintage Shure microphone.
Greg Strzempka of Raging Slab - 1981 Rickenbacker 460 in Burgundyglo.
Dee Dee Ramone - 60's Vox Phantom VI guitar.
Doug Fieger of The Knack - New Vox Python guitar strap.
Danny Peyronel of UFO - Vox organ repairs.
The Edge of U2 - 60's Vox Starstream VI guitar.
Philip Kubicki of Kubicki Basses - An original Kubicki mini flying V guitar.
The Cast Of Beatlemania - Reissue Rickenbacker 360/12V64 and Pyramid strings.
Michael Wright of Vintage Guitar Magazine - Original Lee Stiles guitar among many others.
Kimiko Yamamura of The El Caminos, Japan - Vox organ.
John Wackerman - North Drums.
Steve Ferrone - drummer for Tom Petty.
People we have talked to or have visited the shop over the years.
Maple Byrne of Emmylou Harris Band
Kenny Rogers Band
Cinderella
Bon Jovi
Babes in Toyland
Hank Williams Jr. Band
Allman Brothers
Dio
Matt King
Yes
Henry Gross
Elliot Easton
1964 The Tribute
NOTICE! We install true bypass switches on wah-wah and other pedals. Call or email for details.